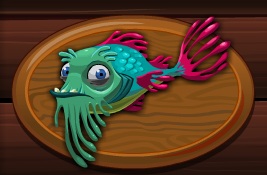 Description: An ancient and wizened fish, Bearded Koi are said to live hundreds of years, although no one has ever spotted a young specimen. Crazy old fisherman tell wild tales about 'Beardos' (as they're affectionately known) throwing themselves upon hooks and into nets to protect their naive, young offspring.
Tip #1: Hangs around Adelaide Beach
Tip #2: Likes big waves
Tip #3: Hates loud motors
Tip #4: Never leaves the reeds
Market Price: 3 - 35
Reel Required: Yes
Reel Avoidance Fee: 6 gold
B1: Catching 1 Bearded Koi is required.
B2: Catching 30 Bearded Koi are required.
B8: Catching 50 Bearded Koi are required.
Community content is available under
CC-BY-SA
unless otherwise noted.