The Pucker Fish's tendency to puff themselves up has long been mistaken by foolhardy scientists as a defense mechanism, when, in fact, it is a method to mock and tease one another. It's unclear how this ritual started, but apparently weight is a very sensitive issue among Pucker Fish.
Comes out when the seas get rough.
Sticks to the southwest.
Hates noisy boat motors.
A shallow-water fish.
Locations
Edit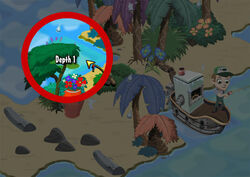 storm/big waves/bamboo/mayflies/quiet motor/hidden reed spot (c: Kevin Law)
Community content is available under
CC-BY-SA
unless otherwise noted.